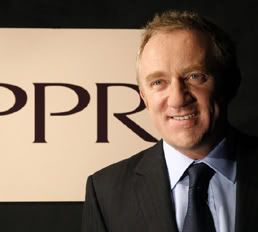 François-Henri Pinault, born May 28, 1962 (1962-05-28) (age 48) in Rennes, Brittany, France, is a French businessman and the chief executive officer of PPR. He is the son of the company's founder, businessman François Pinault. He is also known as Salma Hayek's baby daddy.
For those who doesn't know, PPR owns The Gucci Group which consist of the following:
* Gucci
* Bottega Veneta
* Yves Saint Laurent
* Balenciaga
* Alexander McQueen (50%)
* Boucheron
* Sergio Rossi
* Stella McCartney (50%)
Can you imagine being decked in Balenciaga every single day? I can so die. So he's not the hottest man around but whats inside his pocket is hot. Besides Daddy Frankie is not that bad looking, kinda like an older Daniel Craig. And the name...François...it's like poetry....NO, it's not pronounced as Frankois. Go learn your French!