Dear XXX,

Thank you for your email.

The Alexander McQueen Enamel skull ring is a perfect touch to
a grunge inspired outfit!

We can advise you that this great ring only comes in one size.

The measurements have been included below:

* Width 0" / 1cm
* Circumference 2" / 5.5cm

We have reserved this great ring for 24 hours for you to consider,
simply log into your account and click on my Special Orders to proceed.

We hope this information proves helpful.

Kind regards,

Daniel
Fashion Advisors

Chech! I emailed to ask if they have the ring in other sizes and all I got in reply is this crap? Who the hell care about "perfect touch to a grunge inspired outfit!" I already know it will be the "perfect touch" for me. Just NOT the right size bloody hell!
And I laughed at the last bit of the email. LOL. At least that got me laughing in the morning.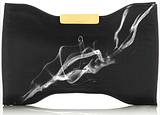 P.s this is not the ring ler...a clutch by the late McQueen from his Smoke collection