I must say that over the weekend, I was the subject of some questioning during some sort of classes which I've attended and one of the many queries that were directed has something to do with what and who influences me the most. I think it's unfair to say that you are not influenced by anything at all – we are all product of our surrounding and one of the things that kind of impacted in the material way was this particular clutch which was popularized by Sarah Jessica Parker in the Sex and the City movie. In fact one search online will reveal plenty of sites dissecting everything that the girls wore or carry in the movie and immediately propelled their desirability and price.
It's not like I am crazy over the Prada clutch just because SJP carries it but the idea of carrying a clutch or in a guy's case *ahem* they would prefer to call it a portfolio/document bag, excuse me thank you very much has never occurred to me before and I find it very fresh indeed. I was actually quite put off by many of my colleagues (esp those that I have little liking for) carrying the same Longchamp bag and truth to be told I don't own the style so it's a waste of time to be bothered by them. Instead I am concentrating and looking for the next new look for myself.
One particular clutch that really caught my eye (despite Fei Mui threatening to clutch my head over my lust for new bags) was the Marc Jacobs Airliner Magazine clutch – both in leather or jacquard finishing. This particular bag is big enough for me to throw in my keys, notebook (mind you it's a book and not a laptop), coin purse, wallet, cards, cigarette and lighter and still have rooms for plenty of other rubbish that I usually carry around with me.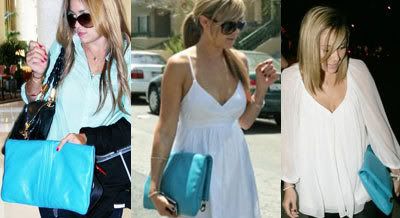 I have no use for small clutches anyway and here you can see LC from The Hills rocking the foam version which is particularly popular. I know she is hardly the authority in fashion but just like her, I am a big fan of MJ. The leather versions are as usual pricier than the canvas monogrammed version but I think for this particular item, the whole monogramming does work and actually I wouldn't mind if it was a plain canvas. I am quite rough with things that I use for work and canvas is something that I can see myself using for a long time without hurting.
All said and done, the black version is most suitable for me, discreet yet stylish. It's very hard to even find any generic high street stores that carry clutches like this and I have contemplated getting the one from MJ but the stores here doesn't carry it. Ordering online will set me back around RM800 to 1K and I am just unsure if I want to spend that much on it. In fact I am unsure if I have that much to spend.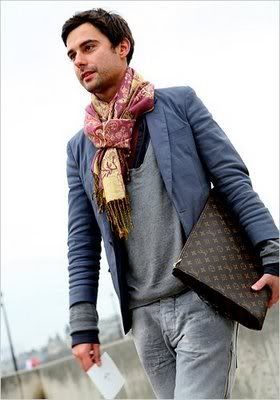 Some other options of portfolio bags comes from either Hermes (can't afford) or Louis Vuitton as pictured here. So yes, man can rock a clutch as well in fact everything for that matter with confidence. I really need to shop around and look at my options, wonder if Gucci has something like that in store for me. If all else fail, there's always something else to look at in the fast paced world of fashion while I spend my time saving for something which I will keep for a long time. For now there's Magnum 4D for me...or the jackpot tickets. Here's hoping.