Well, a quick note to say that I've finally reunited with my babies.
1. Burberry Rollup Canvas + Leather trimmings bag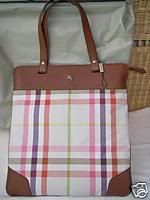 2. Le Pliage Medium Chocolate Bag
Of course it wouldn't happen without my personal shopper Fei Mui. Final damage? Only RM1++K. Guess it will be economy rice for me till...till I spot another hot bag and I am already eye-ing a couple expensive bags already. Oh dear!