I had the luxury of looking at some of this season's new look and trust me it was really a luxury to have a wee free time at work and I was actually stunned for awhile thinking of things to do to pass the time. Naturally I have surfed all my usual blogs and news spots so the next best thing is to hit the runway – online speaking.
Can't be responsible to say that I trendspotted something because it came out first on one of the blogs that I regularly visit, nitrolicious (among many which includes bryanboy, popjustice, launch UK, thebaghag and purseblog) who highlighted this jacket by Balenciaga from the Fall/Winter 07 collections.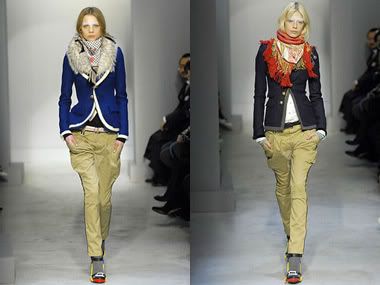 I mean, not only the jacket looked hot but you need to check out those shoes as well. Woman really got it easy with some many designers focusing on some real fierce footwear for them. Last year was mad with so many hits from Marc Jacobs (remember the gladiator inspired ones and heels on the toe end of the shoes). But then again Balenciaga is not exactly affordable for most woman but at least it's more inspiring that flat men shoes with an array of brown, black or white leather. Lace or no lace or pointy. Talk about spoilt for choice.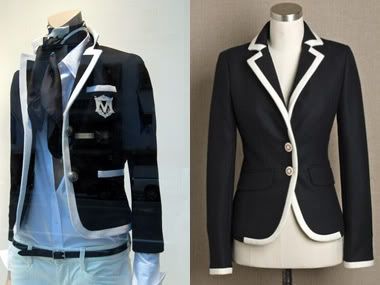 So after B, there was some inspired looks that came out from Club Monaco (L) and J Crew (R) and they ain't exactly very cheap either. The Club Monaco piece is very cute with the whole high collar thingy which was matched with the thinnest belt and short cropped white pants. Last year the jacket world was attacked by the miliarty button-esque inspired look and I was very disappointed to find none for the men locally. Those really strong and structured look is for keeps but what choice do you get when you live in Malaysia.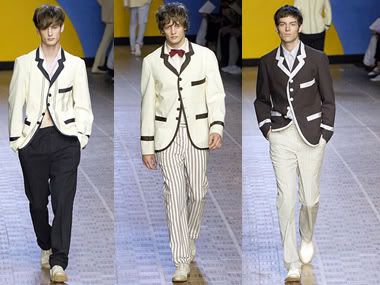 Paul Smith premiered some looks for the jackets there were quite similar to Balenciaga (IMO) for his Spring/Summer 08 collection and I really dig the contrasting colors used on edges. Very classic looking but not old fashioned. It's not a look for everybody and very much more leaning towards casual than anything else. Though I wished the waist could be more fitting to make it look more fierce. I can see it being rocked with either a short white pants (above knee length cropped) or a very relaxed slacks. I really hoped that the usual run of the mill labels will at least have the decency to copy something nice like this so that I can get my hands on one soon.
After going through the entire runway collections from all the designers at Style Men there was another look which stood out from the rest – Gucci. I admit that I was one of those anti Frida people out there and has been lamenting Gucci's unsexy look since Tom Ford's departure. But this collection really did inspired me especially the way she used the red belt with colors that you never really imagined possible. I have to admit once again that I have always wanted a red belt but never thought of matching it this way.
I felt that belts are extremely important in the sense that it balances everything and is also the focal point on a person, well of course you have to quite slim as well. Belts can be so much more than the usual boring stuff (scroll up for description of shoes on top…that's more or less the same look for belts as well in terms of colors and materials) and you can really find interesting ones if you look hard enough. Even woman's belt and before anyone accuses me for cross dressing, many people complimented my belts before and they were surprised to find that I've gotten it from the ladies department because the men's are just so boring. Of course I didn't buy those flowered or bejeweled types even though they are pretty; I would not go that far.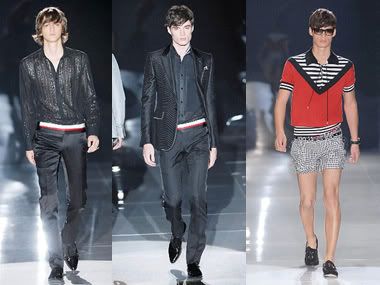 Thanks to Gucci, now there's any added dimension to my clothes (the more formal looks) which I can rocked with the new red belt that I've bought. But believe me, it wasn't easy hunting for one to begin with. There was none other than the overpriced type from Topshop which was catering to the emo punk inspired crowd. I guess it will look good on jeans and all but emo punk are not exactly my cuppa. Oh yeah, short pants will continue to be short and I am certainly happy about that fact. Looks much better than the usual baggy knee length stuff.
I actually ventured into Zara sale hoping that they will not disappoint me again but at last it was the same thing. I mean advertising previous season's warehouse sales would at least get you hoping that they might slash their prices slightly lower than their usual sham of sales but shoes which I have bought years ago at 319 only went down to 249.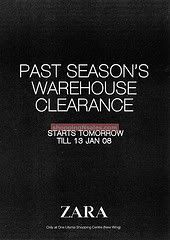 You call that a sale? Don't insult me. Then again, I hardly find anything there during sales other than one or two pieces which no one wants – the usual pinstripe or tweed pants. Well, those are my picks for this Spring's look and let's hope for more fierce stuff coming our way. I can't wait for Fendi and Chanel to unveil some light weighted spring summer bags (Gucci was disappointing though) especially their totes. Perhaps then I can actually afford to get one or perhaps not.
Oh before I forget, here's the other ad from the Victoria Beckham collaboration with Marc Jacobs. There was the other leg only ad which really got slammed by a lot of people and honestly I can't see what's the fuss is about. Marc has always been doing weird ads for his own label anyway and I think Vicky has some sense of humor to actually agree to do ads like that instead of the usual pouty and posing.