So today I went ahead and did something that I have not done before and mind you there's isn't much. Cookie wasn't impressed as usual but it is really something that I used to do a lot with my sister. I really miss that cow, our impromptu trips to town or anywhere else to hunt for bargains in the most out of the world place. So to substitute for the absence of my sister, I was constantly on the phone with her. I certainly need to do this again when she comes back. Lately I have been eyeing some new articles and accessories to expand my look and usually I would just go to ebay and everything can be settled rather cheaply.
However this time around, I can't really find anything and even the cheapest cost a lot (they take cheap stocks from China/Hong Kong and then sell it on ebay UK) so I gathered that I would probably end up paying the same amount or even lesser if I take a stroll to town and look for them. And there I went to the most unlikely of places – Sg Wang.
I can't remember the last time I really bought anything there apart from CDs. I was completely shocked to see the amount of funny stores in the complex and everything sold is very much a reflection of the fashion that kids or ' lalas' these days follow. Can't really understand why most of the clothes are quite decent but they decided to funk it up with horrible writings, scribbling or whatever thing plastered here and there. And another thing which I've learnt – they are very much far from cheap. No sir, you can't get cheap and nice. You want cheap, it's not nice. You want nice, go Bangkok. But the nice doesn't last because the quality is inferior. I did see this cute satchel bag but reframed myself from buying it as thinking about it again I do have many bags which is still sitting around and waiting to be taken out for a walk.
Did I also mention about the promoters? I mean I have no fear for the promoters in Dior or Gucci and in fact I was so at ease in Coach (yes, finally opened in Pavilion but somehow it has lost its appeal knowing how much more cheaper I can get them at states and god, the amount of people in the store..why ah?) but these lala boys totally freak me out. Their hair and their clothing and the way they look at you like an insect out of the jungle. Truth to be told, I wasn't dressed up/down for it and I do look totally out of place in the midst of the raggy jeans and fake two piece and emo cardigans. So finally after some searching, I ended up with a plain black skinny tie (look ma, no motifs, no words splash across or some bling stuck on it and the cheapest that I have found) and a pair of white short pants from SEED. Its tad overpriced but you can't really wait for sale to get them – it's above knee length and tons of faggots would probably snap them up before you can say – it's so Capri or St Barts. I was tempted to get the other one which is a pinstripe number but I can't rock it. So, here I am throwing something new, something old together and ta-dah! This could very well be my look for a good friend's wedding next weekend.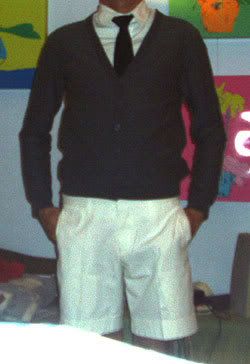 Well of course I am not going to attempt wearing the short pants to the wedding but it seems to work with the top, don't you think? Very jailbait kind of look. Best for the back to school look. I would probably rock it with a pair of low rise jeans, put a belt around it (have not decided to go with white or dark brown but whatever it is the shoes will follow suit). That would be the ensemble for the dinner at night but I am still missing what to wear for the morning church ceremony. I could recycle or rather start off with the tie and white crisp shirt with my braces and pinstripe black pants and then recycle the tie and shirt for the dinner. Yes, I think I will do that.
So what's your judgment? Is it major or major flop?