There's just so much to be thankful about, sometimes its all clouded by our day to day misery and the search and the yearn for more, more and more. When the night draws in, as I lay down in my bed, the rain tipping tapping outside, I feel really lucky. I know I could be unhappy about alot of things but let's just concentrate on the good things, shall we?
I am thankful that...
1. I don't have to clean toilets, looking at those cleaner, I am sure they don't want to do that but sometimes life gives us no choice but a mop and strong arms.
2. I have two eyes that I can see all the beauty (and ugly) of the world, beautiful male bodies, beautiful flowers, beautiful clothes
3. I am not deaf - imagine a world without music. But then again you can always argue that if a person never heard music before in his entire life, he wouldn't know what he is missing out right?
4. I am glad that I have a roof over my head even if I have to share it with a detestable person.
5. I am glad to be doing what I do and working where I work even though it's far from perfect
6. I am tall and thin. It's easy to buy clothes and easier to look good.
7. Ermm...thats all for now...but being thankful is a constant work in progress.
I guess the trick is to look around daily and if I see something, I will tell myself how lucky I am.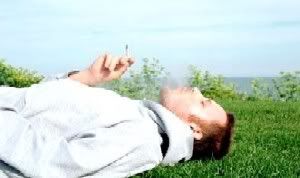 8. Oh yeah, I am glad that I have money to burn, sky to puff the smoke out to and also lungs and brains to destroy.