DJ Play My Favourite Song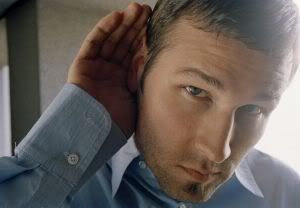 The truth is, of late, I have been in a bit of how should you call it nicely? Mess. Yes, that's the word. To make things worst I am at a crossroad and it's not very pretty. I need to concentrate on my work that has been really lacking lately – performance and volume wise. I know many will go like OMG look but hey every dog has his days. Sometimes it's up, sometimes it's down. But I am still keeping all my chins (double and triple) up. This is when I turn into my one true love, music.
I hate to admit this but I think I have inherited the most obnoxious habit ever from my dad. When I was a kid, I used to cringe at him listening to his radio and songs at the highest volume. High meaning the whole block and row of houses can hear everything crystal clear. It doesn't help that he used to have like really good and strong speakers. Well fast forward back today, I can be occasionally found guilty of noise pollution in resident, pumping away loud dance music. Of course it could be absolutely hot to me but nightmare for others. But seriously, I can't remember a day without music.
How it all started was during my PMR days (Form 3, meaning 15 years old?) when I was staying up late trying to cram as much things into my brain as possible. At that time, my friend Jasmin De Skunk loaned me some tape to listen while studying. Up todate, I can't study or work without music. Some people can't understand how my brain operate that way but hey, it keeps me awake. Yes, it was cassette back then. Anyway, it was Tchaivosky. Did I spell that right? The first few stuff which I listened to was actually classical music. From this day, he still remained my one and only favourite composer. Then I moved on to my first ever CD purchased – Mariah's Daydream. Okay so then there was a period of poop aka pop. I guess everyone is guilty of pop and boy/girlband music one time or another. While I shuddered to think of those days but I believe it's a vital part of growing up. Cookie will be my witness to all those craziness but girl, you have your own dirty little music secret as well. Promise me never to mention them and I will not mention it as well. It was the Smash Hits and Spice Girls era. Sadly though as of today, Smash Hits and TOTP, which has been a UK music institution since forever, has ceased publication and airing.
My form 5 years up to final year of college (the Internet age) was pretty much a big bag of mixed musical influences and listening. Not as much CD buying because there's always downloading. It's still very strong pop oriented, but there are a couple of banshees (Sarah Mc and Enya) here and there, group (No Doubt) and also Chinese stuff (only Faye Wong because every gay Chinese boy listens to Faye). It was during my final year – I learnt smoking and also dance from one of my girlfriend's ex bf. Back in those days Chicane was a big household name – cleverly combining ambient with trance. Anyone remember that awful but hit song with Bryan Adams? Btw, if you asked me the precise classification of the type of music within the dance genre, I wouldn't know the whole locks of it as well but there was some differences like there's progressive trance and then there's trance and then there's house. All I know is if the groove and beat gets my head nodding and legs shaking, it's good stuff. But I am more receptive to vocal based songs. So slowly, I ventured out to other artist because let's face it, you can be listening to one day and night non-stop. These artists are unlike the Asian that spin out 5 albums in a year to make up for the poor numbers. Sometimes you have to wait like 4 years or some shit. Anyway, the most obvious choice was to sample the giants like Tiesto (#1 DJ in the world my arse), Paul Van Dyk, BT and ATB. Sad to say, till today I am not that crazy about any one of them. Then there was Deep Dish (the only act which I have heard playing live in KL ages ago), Groove Armada (genius, absolutely genius in chillout, even though they are well known for that I See You Baby), Daft Punk, Armand Van Helden, James Holden, the oldies but goodies like Junior Vasque and Morales (guru of House, one and only), Stonebridge, Hex Hector, Basement Jaxx and the list goes on.
The problem with Malaysia market is that it is too saturated with radio airplay artists and if you don't like anything bouncy, girl and boybanish or Billboard friendly then you are just about doom when it comes to finding their stuff. Worst still, sometimes you feel alone when it comes to the interest for a particular artist. It's quite liberating when you actually meet another fellow who are in tune with the type of music that you like. The only outlet of sampling this stuff is online and I did that for a year when I was doing web design. One whole year of listening to Ministry of Sound radio online did introduced me to many great acts like Above & Beyond, Armin van Buuren, John OO Fleming, Thrillseekers, Gabriel and Dresden and temporary acts like Deepest Blue (God, I was crazy about them. They made 3 of the best song like ever), Angel City, Linus Love, Studio B, Mylo, Junior Jack, Eric Prydz, Oceanlab and again the list goes on. It was thanks to the Internet where I can buy cds online either from ebay, HMV or Amazon.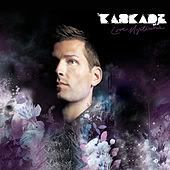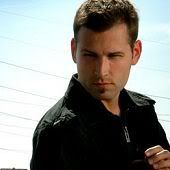 One particular DJ which I stumbled upon this year and fell deeply in love with is Kaskade. I am no groupie so I can't really offer much personal information about him but I can tell you this. His music and his looks are hot, hot, hot. He is married though (oh well!) and I heard him for the first time tuning to MOS online. There was this hypnotic singing (female vocals are hot hot hot backing to a thumping tune) and I quickly wrote to the DJ. That's the good thing about the dance community and Ministry of Sound for that matter, they always do shot outs and wrote back in reply that the song he just played was Kaskade's Everything (Big Room Mix). Okay, so where have I been if I like dance music so much and didn't know that massive massive track. The problem with dance is, there is always a new act and some can be very obscure and you would have known by now, comes with funny moniker. No cutesey or hiphop shit names. Kaskade's style is very much towards chillout and house. Very strong on vocals that make the tunes really uplifting but not hard hitting which makes it very lounge friendly just as it is dancefloor hot. He just released his 3rd album called Love Mysterious and it's more heavy with bass and also guitar as heard on the first single, Be Still. I'll promise to upload some classic later when I get back to work but those are actually patient enough to read through this unstructured blog entry of mine, please feel free to visit
his website
for streams.
Off my head, my download recommendations:
Kaskade – Everything (Big Room Mix), It's You It's Me, Be Still, Steppin Out
Chicane - Love On The Run, No Ordinary Morning, Saltwater, Offshore
Armin Van Buuren – Burned With Desire
Deepest Blue – Deepest Blue, Give It Away
Motorcyle – As the Rush Comes In
Above and Beyond – No One On Earth
So there, this year has been quite fulfilling, musically speaking. While waiting for the next best thing to come out from danceland – many complained that the industry is dying because let's face it, it's hard to sell album if the genre is not like the hottest or mainstream genre like hip hop. Coupled that with crap sounds like DJ Sammy and Cascada and shit that is polluting the airways. I guess you can call them dance music but really, they are a bad and cheesy representation of what dance is all about. It's a very versatile and beautiful genre with its sub genres. There's something for everyone. People, please tune out more to other types of music. Step out from your comfort zone. Enough of Hitz and Mix FM. Thank god for the occasional dance stuff on Red 104.9 - thank you and keep up the work!
Then again, if you think I am all about dance then you are wrong. Music is like clothes. There's a different outfit for different ocassion. I love big bands and swing/jazz which I streamed on Yahoo! Music as well. I am really really thankful (coming from someone who is tune, pitch and instrument deaf) for all the beautiful music in the world.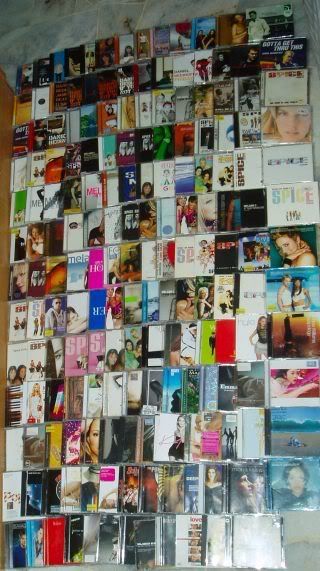 Picture taken two years ago. Of course the collection is growing slowly. There's plenty of pop shit there but hey, I listen to all kind of music. Those are the stuff that makes me what I am today. Without past, you have no present or future, right?Think it will be a long list if I were to list it here.
Btw, can I say this? Laundry used to be nice and quiet place for drinking. I used to go there long time ago.These days everyone and anyone wants to go there which really pisses me off. Fuck off people!